How our software figures out what you'll pay for prescriptions this year.
Predicting your medical expenses in a given year is difficult. You know you'll likely make one routine visit to the doctor and seek treatment for recurring conditions, but whether you'll go to urgent care to treat a spider bite or, end up in the emergency room because of a broken leg, is up to chance.
Stay Up to Date on Medicare!
But one of your healthcare expenses is relatively easy to estimate: what you'll pay for prescription drugs in a given year. To recommend what prescription drug plan is best for you, we estimate how much each one will cost you over the course of the year and then suggest the lowest cost one. In this post, I'll explain how we do it. But first, a primer on Prescription Drug Plans.
Prescription Drug Plan (PDP) Components
The elements of a PDP that determine its costs are:
Monthly Premium
What you pay every month to be insured.
Drug Tiers
Each PDP has a formulary, or list of drugs that it covers. Each drug is grouped into one of five tiers below.
Tier 1: Preferred Generic

Tier 2: Generic

Tier 3: Preferred Brand

Tier 4: Non-Preferred Drug

Tier 5: Specialty.
Your coverage decreases as tiers increase. For example, your plan might have a copay of $1 for tier one drugs, but only cover 25% of the cost for tier 5 drugs.
Deductible
Many PDP plans are marketed as having a single deductible, but if you read the fine print, you'll see that some plans cover tier 1 and tier 2 drugs before the deductible is met. Plans cannot have a deductible higher than $505 per calendar year in 2023.
Coverage Phases
The amount you spend on drugs while insured by a PDP is called the TrOOP (Total Out-of-Pocket-Costs), and as it increases, you progress through different phases of your plan. In each phase, your plan's coverage per drug tier changes. The phases are:
Initial Coverage: TrOOP between 0 and $4,430

Coverage Gap (a.k.a.

Donut Hole

): TrOOP between $4,430 and $7,050. Many plans pay less for drugs during the gap than during the initial phase (hence the name). For example, you might be on the hook for 25% of the cost of a generic drug instead of a $1 co-pay.

Catastrophic Phase: TrOOP beyond $7,050. At this point, your plan's coverage becomes more generous. For example, you might pay 5% of the retail price for a generic drug.
Putting It All Together
We combine all of the above concepts to create a personalized month-by-month estimate of what you'll pay for your prescriptions drugs.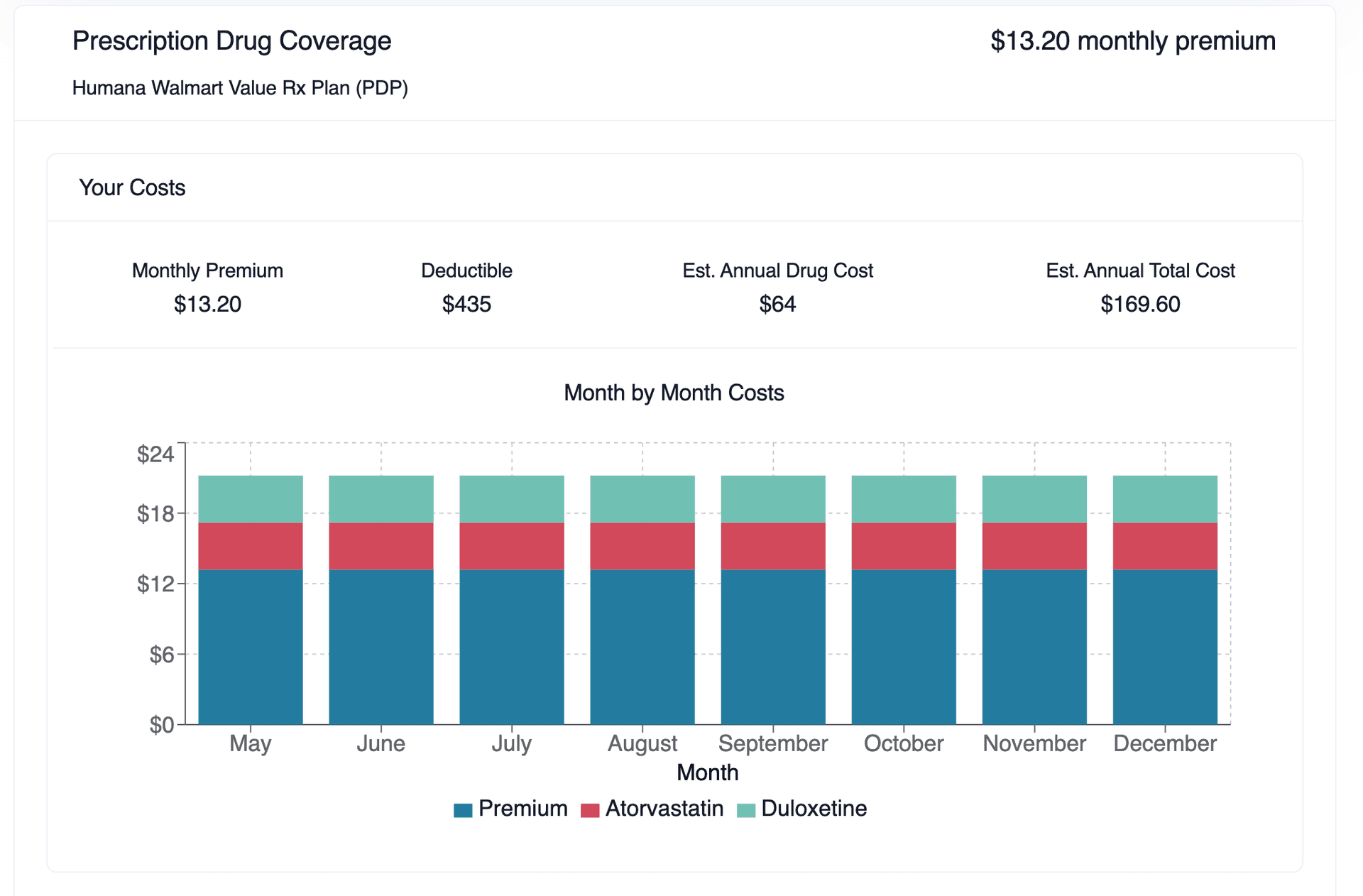 Each month we add up:
Your premium

What you'll spend on each prescription. We do this by cross-referencing your prescriptions with the plan's formulary. We estimate the retail price of the drug using data from GoodRx. Depending on your TrOOP, the amount of coverage your plan will provide for a given drug will vary.

We then suggest the plan with the lowest estimated total expenditure (premium and drug costs).
Stay Up to Date on Medicare!