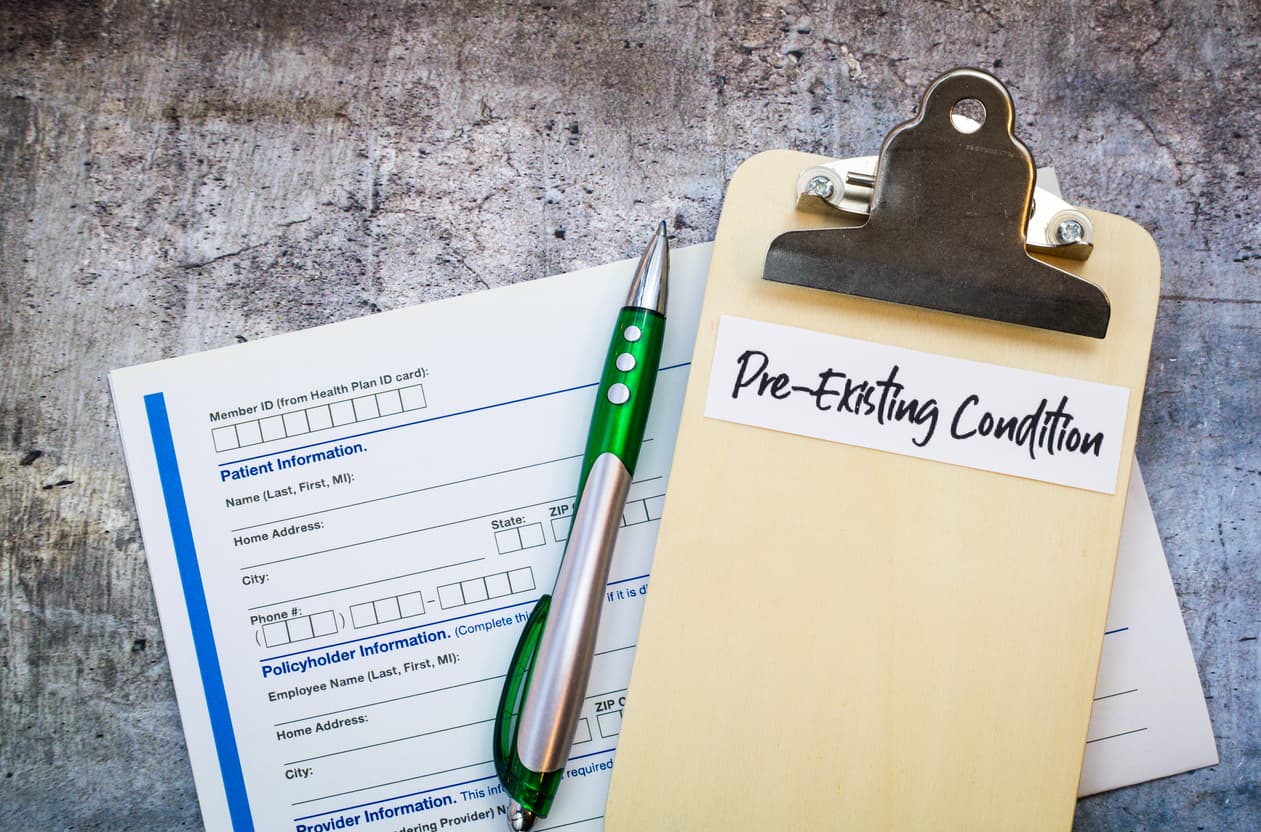 By Daniel Petkevich
Mar 28, 2023
Read this if you have pre-existing conditions
Are you concerned about being denied coverage for pre-existing conditions under Medicare Advantage plans? You're not alone. Pre-existing conditions have been at the forefront of healthcare debates for many years now. Luckily, if you are interested in signing up for a Medicare Advantage plan, also known as Part C, you can join even if you have pre-existing conditions. But you should approach this decision with a degree of caution. Let's talk through your options and why you might want to have some wariness when opting for Medicare Advantage plans with a pre-existing condition. 
Stay Up to Date on Medicare!
What Are Pre-Existing Conditions?
According to
Medicare.gov
, a pre-existing condition is a health problem you had before the date that new health coverage starts. This was one of the major talking points during the introduction of the Affordable Care Act when it was determined that health insurance companies could not charge you more or refuse coverage because of pre-existing conditions. 
According to
CMS.gov
, up to half of all non-elderly Americans have at least one pre-existing condition. Some examples of common pre-existing conditions include: 
From the CMS article: 
While insurers generally determine the presence of a pre-existing condition based on an applicant's current health status, sometimes a healthy applicant can be deemed to have a pre-existing condition based on a past health problem or evidence of treatment for a particular condition.
Luckily in recent years, and especially with government-backed insurance programs like the ACA and Medicare, you should not face barriers when signing up due to your pre-existing conditions.
Pre-Existing Conditions and Signing Up for Medicare Advantage
First, it's important to understand the distinction between Original Medicare and Medicare Advantage plans. Medicare Advantage plans include Original Medicare (Part A hospital insurance and Part B medical insurance), and usually include a prescription drug plan (Part D). Medicare Advantage plans are sold by private insurers that, by law, need to provide at least the same level of coverage as Original Medicare. 
You will not be denied a Medicare Advantage plan because you have a pre-existing condition.  
Medicare Advantage plans are not inherently bad
, as you might have heard. However, they are frequently misunderstood. For example, you can't be denied from joining a plan. But that same plan might deny coverage of specific treatment related to your condition and limit where you might seek treatment.
Network Restrictions for Pre-Existing Conditions on Medicare Advantage Plans
The insurance providers of Medicare Advantage plans might be restrictive in offering coverage when it comes to seeking specific care for your pre-existing condition. When choosing a Medicare Advantage plan, you will choose between HMO and PPO. For a deep dive into the difference between HMO and PPO, check out
our article here
.
An HMO plan means that you can only seek care in your network. Otherwise, you will pay the entire cost out-of-pocket. A PPO plan means you can seek care outside of your network and receive some coverage, but you will pay more to go outside your network. 
For example, if you are signing up for a Medicare Advantage plan with a pre-existing condition like cancer, they cannot prevent you from joining that plan. But if your cancer worsens and you are interested in seeking treatment or a second opinion at a hospital outside of that Medicare Advantage plans network, you could face higher bills or potentially pay for the entire procedure or consultation out-of-pocket.
In some instances, your Medicare Advantage plan might require prior authorization. That means that your coverage only kicks in if you get certain types of treatment approved by your insurance plan provider. If you want one form of treatment for your condition, and your provider would rather you get another form of treatment, you might have to pay for the preferred treatment out-of-pocket. 
What About Medicare Supplement Plans?
Another way to add more coverage to your Original Medicare is through Medicare Supplement plans. These plans are sold by private insurance companies, but they are standardized by the government, so you might see different prices for the same levels of coverage. One of the key differences between Medicare Supplement and Medicare Advantage is that with a Supplement plan, you can seek treatment from any doctor who accepts Medicare, which includes over 90% of doctors nationwide. No fussing with HMO or PPO networks, just the Medicare network. However, if you're trying to switch into a Medicare Supplement plan, it might get tricky. 
Sometimes, insurance companies can dig through your medical history and increase your premium, delay your coverage, or sometimes even reject your application. While Original Medicare is not limited by pre-existing conditions, Medicare Supplement insurance plans have different rules.
Unfortunately, when joining Medicare Supplement plans outside your Initial Enrollment Period (three months before you become eligible for Medicare until three months after you are eligible) and certain Guaranteed Issue periods, insurance companies have the ability to scrutinize your medical history and may increase premiums, impose waiting periods for coverage, or even reject your application in some cases. 
This scrutiny is called Medical Underwriting. As a result—you might have a tougher time getting coverage due to your pre-existing conditions. Medical Underwriting doesn't necessarily mean that you won't be allowed to join a given Medicare Supplement plan, but you might have to pay much more for that plan than you would have without it. 
We Recommend Choosing a Medicare Plan for Your Needs
Medicare Advantage plans will not deny you from joining their plan, but you might face much steeper out-of-pocket costs if you try to go outside your HMO or PPO network. Medicare Supplement plan providers won't deny your treatment based on network restrictions or prior approval, but if you are trying to switch from an Advantage plan to a Supplement plan, you could face Medical Underwriting, which makes joining a plan harder or more expensive. 
The best way to avoid these pitfalls is to
speak with a Medicare expert at Fair Square
during your Initial Enrollment Period. They can help you weigh your options and find your best-fit plan. And if you know what plan works best for you from the beginning, you don't need to worry about switching plans. If switching plans becomes necessary due to your life circumstances, we can help with that too.
Conclusion
Pre-existing conditions cannot prevent you from joining a Medicare Advantage plan. If you enroll for a Medicare Supplement plan when you are first eligible for it, pre-existing conditions cannot prevent you from joining the plan, and you won't face as many hurdles when you seek treatment due to your condition. We know Medicare can be complicated, and that's why we're working to make it easier for everyone. Please give us a call at 888-376-2028 if you have any questions or are ready to sign up for Medicare.
Stay Up to Date on Medicare!