Read to see how Medigap plans fit with your budget
Retirement is something that all seniors should look forward to. However, there is also the sense that their budget is already stretched thin enough before considering the added burden of paying for health insurance. Medicare Supplement Plans, especially
Plan G
, offer the best coverage in Medicare for many people, but this often means paying higher monthly premiums. 
Stay Up to Date on Medicare!
Just because you might be low-income does not mean you can't afford to have the Medicare Supplement plan with the most comprehensive coverage. Our team of experts at Fair Square can assess your financial situation and find the best plan for your needs. Let's talk about how low-income seniors can find Medicare Supplement plans.
Medicaid and Medicare Savings Programs
You have options when it comes to saving on your healthcare expenses in retirement. Both options can help save you money on your out-of-pocket costs, including premiums, deductibles, copays and coinsurance. 
One option that you're likely already familiar with is Medicaid.
Medicaid
is a federal and state-wide program that provides healthcare assistance to those with low-incomes. If you have both Medicare and Medicaid, Medicare pays first, and Medicaid pays second. If you qualify for Medicaid, some of the out-of-pocket costs that might be covered include: 
Deductibles, coinsurance, and copayments.

Additional prescription drugs and services that Medicare doesn't cover. 
You might also be enrolled in Extra Help, which offers savings on your Part D Prescription Drug plan. Learn more about Extra Help
here
. 
If you want to apply for Medicaid, you can begin the process at the
link here
.
Medicare Savings Programs are state-based programs to help ease some of the burdens of out-of-pocket costs associated with Medicare. In addition to helping with premiums, deductibles, copays, and more, depending on your state. Your options vary based on your state, but according to the Medicare.gov website, there are four different MSPs:
Qualified Medicare Beneficiary (QMB) program

Specified Low-Income Medicare Beneficiary (SLMB) Program

Qualifying Individual (QI) Program

Qualified Disabled Working Individual (QDWI) Program
There are some broad income and resource limits listed on the Medicare website. However, the numbers listed have yet to be updated for 2023, and the limits might vary depending on your state and your situation. It's worth it to apply even if you're above the limit because these programs are state-specific, so you might still qualify. You will need to apply through your state's Medicaid portal. You can begin the application
here
.
Medicare Supplement Plans for Low-Income Seniors
Medicare Supplement plans, also known as Medigap plans, are used to fill in the gaps in Original Medicare. When Medicare was first introduced in 1965, it was considered great as far as health insurance plans of the day. However, as healthcare costs have skyrocketed over the last 50-plus years, leaving 20% of healthcare costs in the hands of beneficiaries is simply not enough coverage. Medicare Supplement plans are recommended by our agents for many seniors joining Medicare for the first time because they offer the most comprehensive coverage against out-of-pocket costs, and because you have every doctor and facility covered by Medicare at your disposal.
If you can apply to a Medicare Supplement plan during your initial enrollment period, that is the best time. The availability window of Medicare Supplement plans can close if you enroll in a Medicare Advantage plan first, then try to switch. Before switching, beneficiaries might have to go through medical underwriting, a process that could make joining a Medicare Supplement plan prohibitively expensive. Plus, if you are eligible for Medicare and are without coverage, you could be subject to Late Enrollment Penalties. Call one of our licensed Medicare advisors today at (888)-376-2028 to see if a Medicare Supplement plan is your best choice. 
Comparing Medicare Supplement Plans
For the sake of completeness of information, we've made a handy chart to compare the different plan letters associated with Medicare Supplement.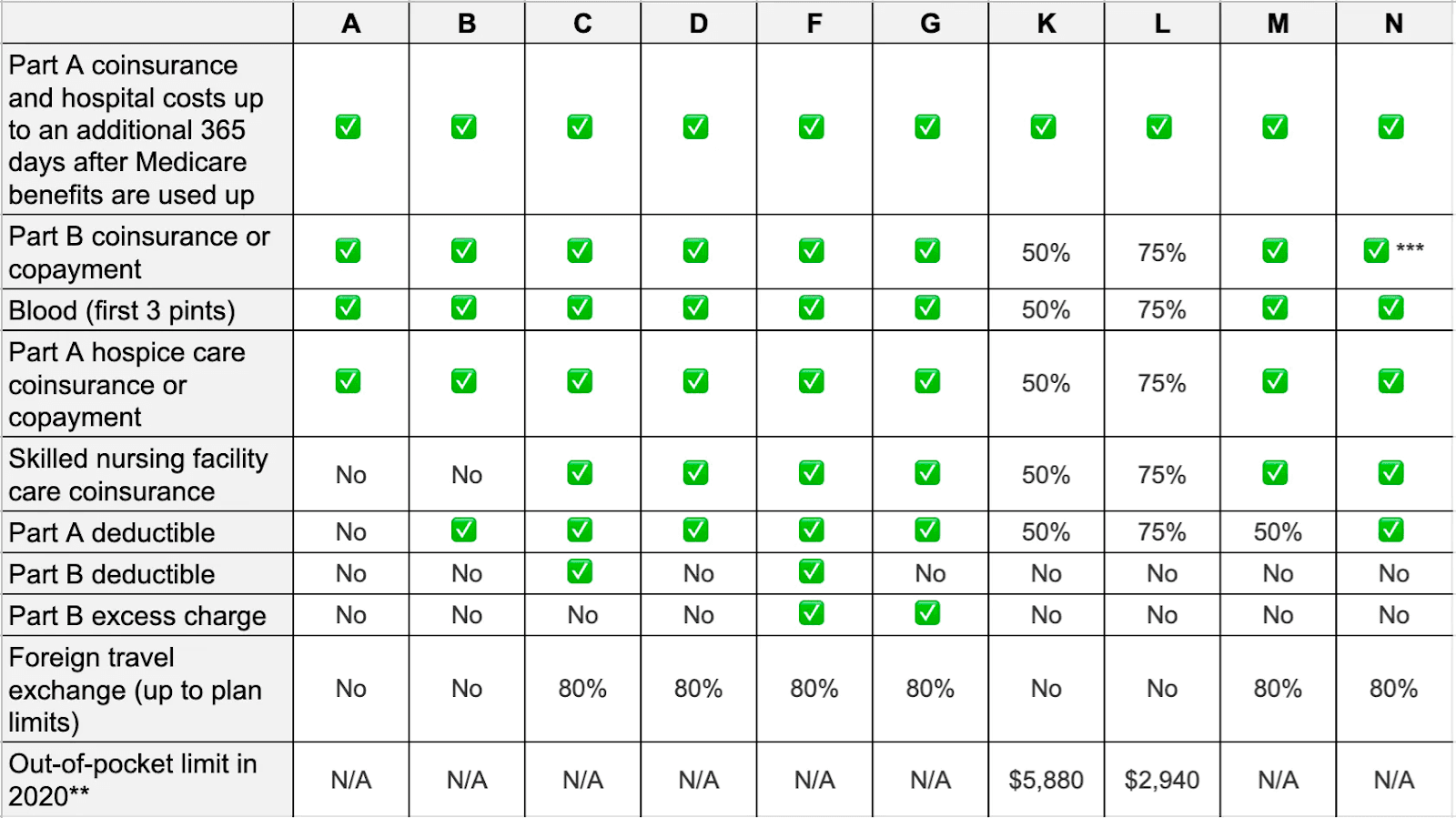 As you can see, the Medigap plan that offers the most comprehensive coverage is Plan F. However, Plan F is only available to those who were eligible for Medicare before 2020. And since the available pool of Plan F recipients is shrinking, that means the monthly premium is likely to increase in the future. Check out this excerpt for another reason to think twice about Plan F, from our article about
comparing Medigap plans
:
The only difference between Plan F and G is that the former covers the $226 Medicare Part B deductible. However, Plan F costs, on average, about $50 more per month than Plan G. No point in paying an extra $600 a year for $226 in savings.
That is why for many of our clients, our recommendation is generally for Plan G. As it stands, Plan G offers the most coverage for new-to-Medicare seniors. If you live in a state that has excess charges outlawed (including Connecticut, Massachusetts, Minnesota, New York, Ohio, Pennsylvania, Rhode Island, and Vermont), then Plan N is also a solid choice. 
For all seniors, but especially those with limited income, the cost can be the determining factor for choosing a Medicare Supplement plan. For Medicare Advantage plans, the quality of care and the network may vary depending on your insurance plan provider. Medigap plans, however, have benefits determined by the government. You will receive the same standard across different insurance plan providers. And you don't need to worry about networks since you can visit any doctor in the country that accepts Medicare (which constitutes over 90% of doctors nationwide). 
Tips for Choosing the Right Plan
The short answer is that different people have different situations, and the easiest way to choose the right plan for you is to
speak with a licensed Medicare advisor at Fair Square
. Our agents have years of experience and are licensed to sell in all 50 states. Different states have different rates for the same plan letters, so do your diligence when researching and shopping around. 
As mentioned above, Plan G offers the most comprehensive coverage. It might not be the cheapest Medigap plan available in terms of your monthly premium, as the chart below shows: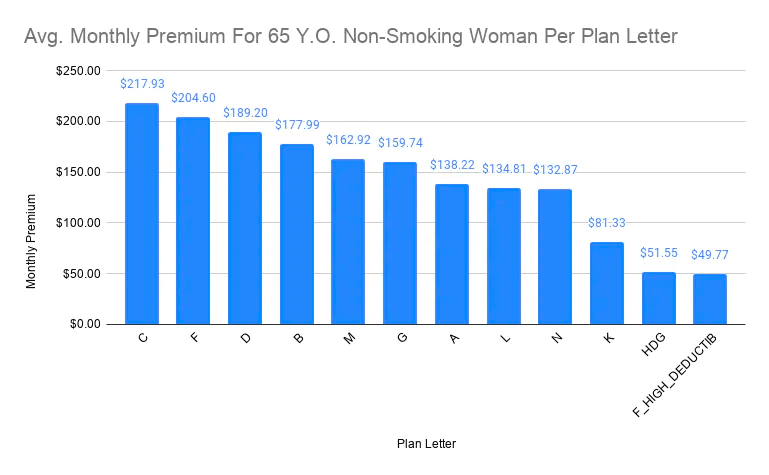 However, a monthly premium is not the only factor when choosing a plan. You want to think about how frequently you go to the doctor, any major procedures coming up, and whether your family has a history of serious medical issues. A common mistake for many when choosing a Medicare plan is making the assumption that they will be spending the same on healthcare when they turn 85 as they currently do when they're 65. Healthcare expenditures typically increase as you age, so you should consider that when choosing a Medicare Supplement plan. 
Conclusion
If you are a low-income senior looking for a Medicare Supplement plan, don't worry. You've got options when it comes to choosing a plan letter, not to mention the availability of Medicaid and Medicare Savings Programs. It's important to get the process started early so you know your options and avoid any potential penalties. Give us a call at (888)-376-2028 to start shopping for a Medicare Supplement plan today.
Stay Up to Date on Medicare!