Let's discuss how this challenging question can have a few simple answers
One of the most significant decisions you can make regarding your Medicare plan is the choice between Medicare Advantage and Medicare Supplement. We understand that the decision is a complex one. There are many different plans to choose from, not to mention deciphering each unique plan's pros and cons. 
Stay Up to Date on Medicare!
Sometimes, the decision between Advantage and Supplement is made simple. In this blog post, we're going to take you through real examples from real Fair Square clients that showcase unique scenarios when Medicare Advantage might be the right choice over Medicare Supplement. Your options can differ based on where you live. Whether you're soaking up the sun in California, bustling through the busy streets of the New York Metro Area, or enjoying the peaceful serenity of Connecticut, we've got some crucial insights tailored just for you. We'll even delve into specific considerations for our Tricare for Life clients. Let's talk through these scenarios and get you closer to your ideal Medicare plan.
Financial Comparison of Medicare Advantage and Medicare Supplement
Before we talk about specific instances when Medicare Advantage might be preferable to Medigap plans, let's have a quick refresher on the main differences between the two types of plans. 
Medicare Advantage and Medicare Supplement are two distinctly different healthcare options. Medicare Advantage plans, also known as Part C, often have lower monthly premiums, sometimes even $0, but include out-of-pocket costs such as copayments, deductibles, and coinsurance. They are often referred to as the "pay-as-you-go" option because you generally have lower upfront costs with the monthly premium, but you might have to pay more as you visit the doctor more frequently.
Conversely, Medicare Supplement plans, also known as Medigap, usually feature higher monthly premiums upfront but cover most, if not all, out-of-pocket costs from Medicare Parts A and B, depending on your plan letter of choice. Check out this chart below which compares the different plan letters of Medicare Supplement. As you can tell, the most comprehensive of these plan letters that are still available to new-to-Medicare beneficiaries is Plan G.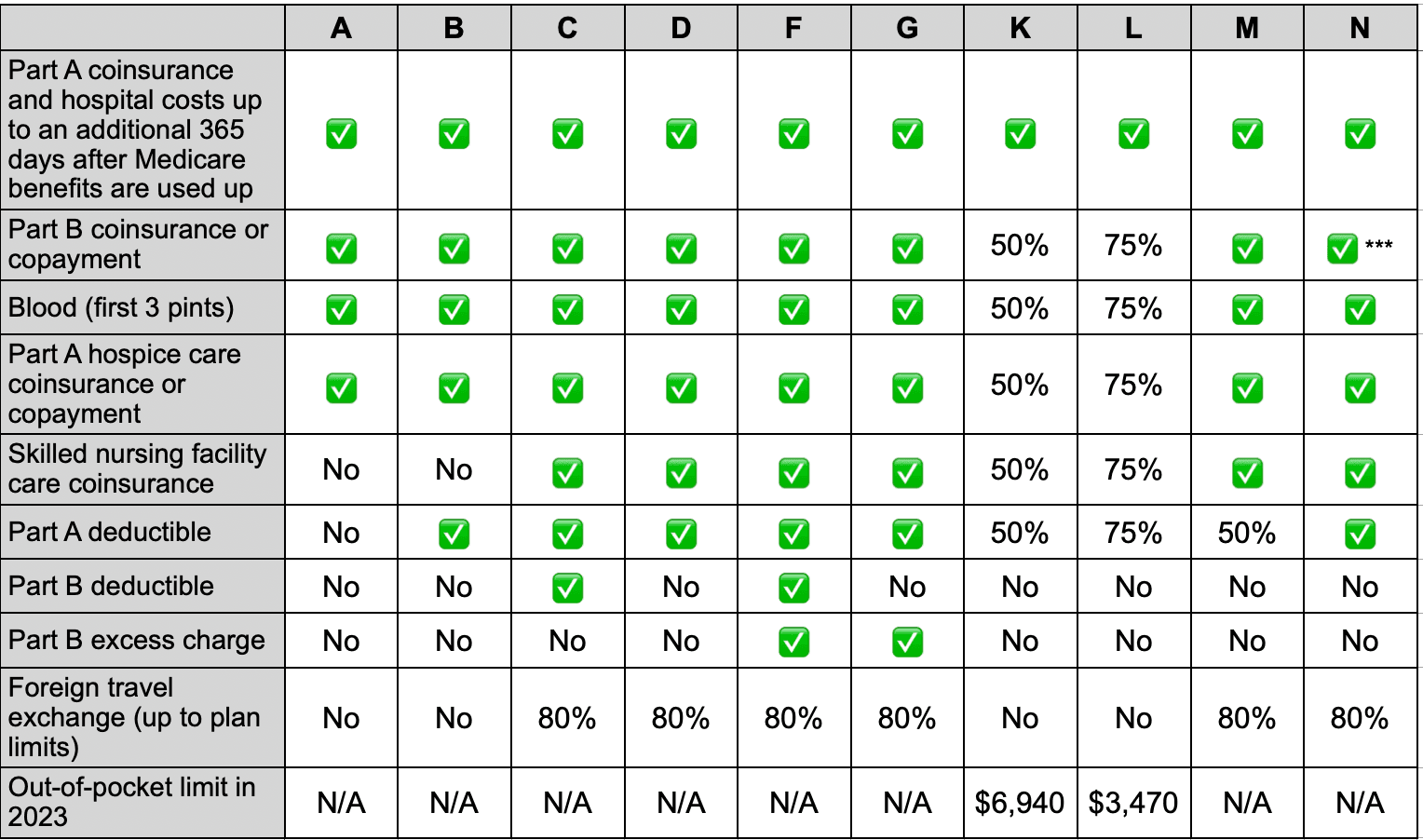 One major difference in Medicare Advantage plans is the concept of the Maximum Out of Pocket (MOOP) in a given year. This is a safety feature that sets a limit on how much beneficiaries have to spend on covered medical services in a given year, after which the plan pays for 100% of covered expenses. While you may have more out-of-pocket costs under a Medicare Advantage plan, your total cost risk is capped. 
In contrast, Medicare Supplement plans, which provide broader coverage, might quote significantly higher premiums compared to Medicare Advantage. Budgeting with a Medicare Supplement plan can be more predictable, as they provide extensive coverage with minimal unexpected out-of-pocket costs.
Looking Beyond the Finances
Since we've gone through the financial comparisons between the two, before we move to the specific scenarios, let's talk about a few more factors in the decision between Medicare Advantage and Medicare Supplement.
With Medicare Supplement, you have the advantage of seeing every medical provider in the country that accepts Medicare (over 90% nationwide). With Medicare Advantage, you are restricted to an HMO or PPO network. HMO means that you have to stay within your network or pay the total medical cost out-of-pocket. PPO means that you can go outside the network and pay a higher share than you would normally but still receive some coverage from your Medicare plan. 
On the plus side for Medicare Advantage, many of these plans offer extra benefits that you will not get with your Medicare Supplement or Original Medicare. Most Advantage plans come with a Part D prescription drug plan attached, in addition to dental, vision, and hearing benefits. Plan-specific details may vary, so you can do your own research to see what might be included or
speak with a Fair Square expert
to go over what plans in your area are on offer. For Medicare Supplement plans, you would have to purchase a Part D plan, dental, vision, and hearing coverage separately. 
Finally, when choosing between Advantage and Supplement, you should be aware of Medical Underwriting. Medical underwriting is when insurance companies scrutinize your health history, which could lead to increased rates and, in some cases, prohibit you from joining a specific plan. You might go through underwriting when you try to enroll in a Medicare Supplement plan outside your initial enrollment period (although, as we'll discuss below, some states have no Underwriting). 
Region-Specific Considerations
California
For California residents, it's important to understand the nuances of your options. Not all plans are created equal, and quotes might be different based on your gender, age, and medical history. 
In California, Medicare Advantage plans
can be a financially wise choice for many individuals. One of our clients recently had a compelling quote for the AARP Secure Horizons Focus Plan. This plan offers incredible value with a $0 premium, deductible, and copay. Even more impressive is the Maximum Out-of-Pocket (MOOP) expense, capped at just $800 annually. For those who require dental care, you're also in luck, as this plan provides a $1,000 dental benefit. 
In contrast, the cheapest Medicare Supplement Plan G for this client was $200. A
Medicare Supplement Plan in California
might set you back an additional $122-$200 per month in premium costs.  As you can see, choosing Medicare Advantage can result in substantial savings when compared to Medicare Supplement.
However, cost isn't the only factor when choosing between Medicare Advantage and Medicare Supplement. It's crucial to understand the "guaranteed issue rights." This refers to the situations when insurance companies are legally required to sell or offer you a Medigap policy without going through Medical Underwriting. In California, you can switch from an Advantage Plan to a Supplement Plan when these rights are present. Understanding your rights can make this transition smoother and more timely.
In California, the Advantage plans may be more HMO-oriented, so you'll need to select a primary care physician and stick to a specified network for care. PPOs offer a bit more flexibility, allowing you to see doctors and specialists outside of your network, though this might come at a higher cost. Consider your personal health needs and lifestyle when choosing between HMOs and PPOs. For example, if you travel with any frequency, HMOs might mean more healthcare spending totally out-of-pocket.
In California, you also have a "trial right" for a year with Medicare Advantage. This means that if you're not satisfied with your Advantage Plan, you can switch to a Medicare Supplement policy within the first 12 months of enrollment. For more information about trial right in California,
check out this article
.
In summary, California offers some attractive options for those considering Medicare Advantage, thanks to its cost-effectiveness and certain legal protections. However, the choice between Medicare Advantage and Medicare Supplement should always be based on your unique health needs and financial situation. Take advantage of your trial rights, assess your options, and make the choice that suits you best.
New York
There are two major contributing factors to
Medicare Advantage plans in New York
(especially the metropolitan area) being a great option. The first is that New York has some of the most expensive supplement plans in the country. According to our agents,
Medigap plans in the Empire State
typically range between $220-$270 in monthly premiums. In one recent example with one of our clients in New York City, their cheapest supplement plan option was $281.50. Our agents have seen monthly premiums as high as $400!
Now, let's discuss another essential aspect of New York's Medicare landscape: the presence of year-round guaranteed issue rights to switch to Medigap. This feature helps to avoid one of the most significant red flags associated with Advantage plans — the difficulty of switching to a Supplement plan without facing underwriting or denials based on pre-existing conditions. So, a very common situation that we see is that many new-to-Medicare beneficiaries who recently turned 65 are still in great health. They don't need a Supplement plan's level of coverage when they only see the doctor once or twice a year, but if their health worsens in a decade or so, they don't want to face Medical Underwriting that could lock them into their Medicare Advantage plan. In New York, when you choose a Medicare Advantage plan and later decide it's not the right fit, you have the flexibility to change your plan.
However, it's crucial to time this switch strategically. We recommend aligning this change with the Annual Enrollment Period. Doing so allows you to also obtain a Part D plan, ensuring your prescription medications are covered when you make the transition. The AEP happens each year from October 15th through December 7th every year. One of Fair Square's licensed Medicare advisors can help you make the switch when the time is right.
Connecticut
Like in New York, Connecticut also offers you the flexibility to switch to a Medigap plan annually, thanks to guaranteed issue rights. This allows you the freedom to transition between plans based on your evolving healthcare needs and circumstances.
Moreover, the switching period isn't just about moving to Medigap. You'll also find that several enticing Medicare Advantage offers become available during this period. This can present a golden opportunity to evaluate your current plan and consider whether a different plan might offer better value or more suitable coverage.
Remember, your choice should always prioritize your unique health needs and financial situation. Keep a keen eye on these switching periods, and take full advantage of Connecticut's flexibility in Medicare offerings.
While these benefits make a compelling case for Medicare Advantage, it's worth noting that these plans do come with certain limitations. One key drawback is the network restrictions. With an Advantage plan, you're typically required to use healthcare providers within a specific network. This can be restrictive if your preferred doctors or specialists aren't in your plan's network.
A Closer Look at Tricare for Life Clients
Tricare for Life clients are in a unique position when it comes to navigating the world of Medicare, and we're here to help clarify your options.
A Supplement plan might not be your best bet. Tricare for Life already fills in many of the gaps that a Medigap plan would cover. That means opting for a Supplement plan could lead to unnecessary overlap and potential waste of your hard-earned money.
Instead, you might want to consider the benefits of choosing an Advantage plan with dental, vision, and/or hearing coverage. These plans can provide additional coverage that complements your Tricare for Life benefits. An MA plan that offers these benefits with a $0 premium is a win-win situation.
Let's illustrate this with an example. Consider a recent client of ours near Atlanta who is already covered by Parts A & B due to enrolling in Social Security and has Part D coverage through Express Scripts. Adding an Advantage plan would give the client coverage for dental cleanings, exams, X-rays, and a limited coverage amount (usually around $1,000 to $1,500) towards comprehensive dental care, which can include fillings or root canals.
You've been contributing your tax dollars to Medicare throughout your working life, so why not take full advantage of what it has to offer? With the right MA plan, you can enhance your coverage and ensure you're getting the most value possible without being wasteful. As always, be sure to consider your unique health needs and financial situation when choosing your plan.
Conclusion
One of the most important takeaways for people making a decision about their Medicare plan is to research what fits best to their unique circumstances. Medicare is not a one-size-fits-all program, so use all your resources wisely to find your best-fit plan. The above situations are not the only instances where Medicare Advantage plans are a better option than Medicare Supplement, and there still might be someone in these three states that should have a Supplement plan. 
If you are interested in talking through your options, give us a call at 888-376-2028. We can give you personalized advice on choosing between Advantage and Supplement plans. If you know someone who might benefit from reading this article, share it with them!
Stay Up to Date on Medicare!